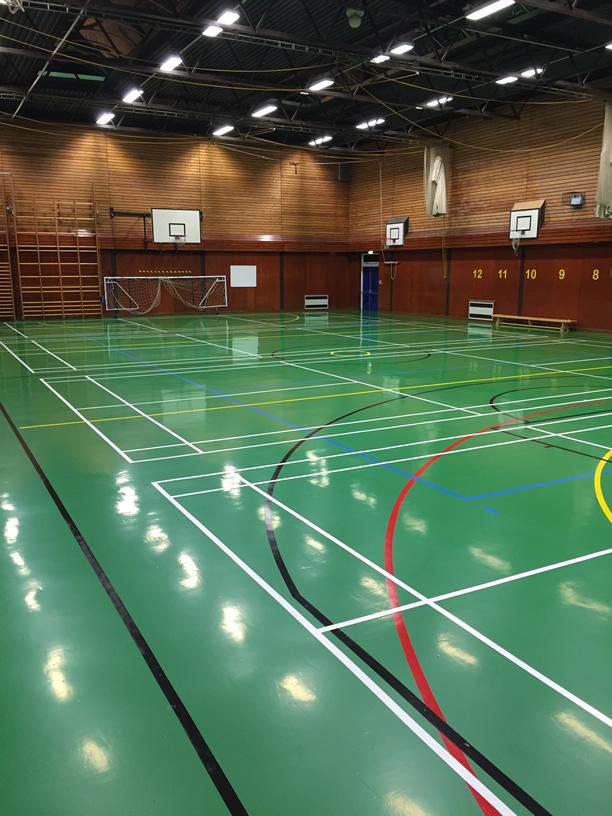 Court Marking
Renovate Contracts Ltd offers an indoor court marking service for the flooring industry. Renovate Contracts can paint court markings on most sports surfaces including all types of wood, Granwood, Gransprung, Junckers, Kahrs, Haro, Boen, Tarkett, Wietzer Parkett, vinyl, Gerfloor, Sport 'M' Taraflex, Altro Mondo, Polyflor, Polytred, Flexiflor, Standard, Forbo and many other sports floors. Court marking is not carried out by Renovate Contracts Ltd using tapes, all of our line marking is carried out using specialist paints purpose designed with court markings in mind. The indoor sports lines that Renovate Contracts Ltd paint are badminton, basketball, volleyball, hockey, tennis, 5-a-side, boccia, netball, squash, athletics training lines and demarcation lines or markings. Renovate Contracts Ltd is the recommended line marking contractor for two large flooring manufacturers, Polyflor and Junckers, as well as many different flooring contractors. This is due to the fact that Renovate Contracts Ltd is able to carry out the court marking process under site conditions to fit in with the requirements of the site.
Sports Lines
Our court markings are complemented by our logo service which companies, sports teams, schools, universities and M.O.D sites, use to display their logo on their newly installed or refurbished flooring using our line marking service. Renovate Contracts Ltd is a sports hall line marking company that carries out court markings on a great scale. We are responsible for many newly installed sports floors of all kinds as well as on both wood and Junckers and Granwood floors which are being refurbished by way of machine sanding either by ourselves or by our client. During the court marking process, we liaise with our clients to advise them when they will either be able to put their floor into use for the first time or be able to carry on the application of further coats of floor seal or lacquer in order to complete their job. Many court marking jobs are carried out in accordance with Sport England's guidelines and therefore sizes are pre-determined. Some buildings, however, do not allow the guidelines to be followed to the letter in terms of court markings. Renovate Contracts Ltd will overcome any such problems by weighing up the problems with the client and suggesting possible ways to overcome the issues without compromising the play experience.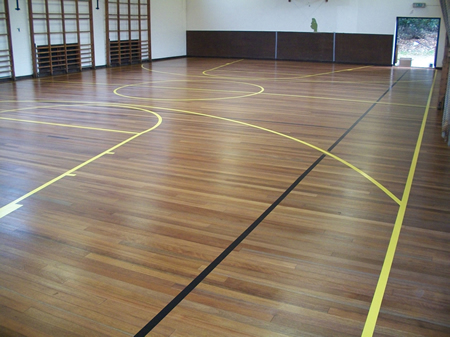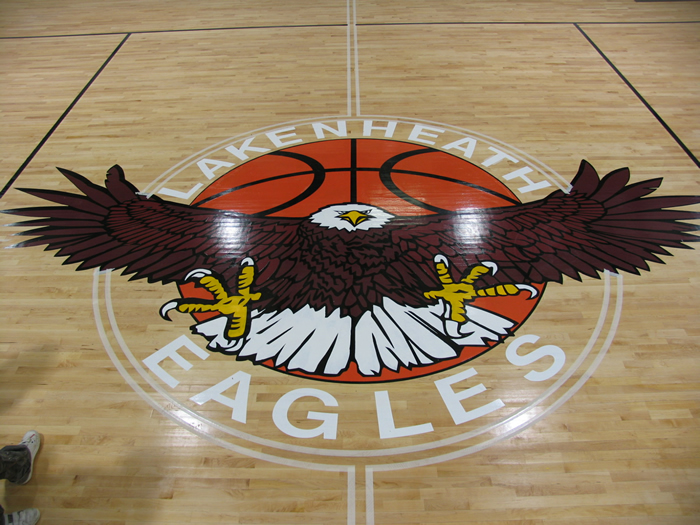 Sports Floor Markings
Sports lines or court markings can be either renewed or touched in during a scrub and reseal on all types of wood floors and Granwood or Gransprung floors. On these types of flooring, the painted sports lines are applied between coats of floor seal or lacquer which is referred to as encapsulation. This process means that the lines are kept away from the 'footfall' and will, therefore, last much longer provided the floor is kept clean and the interim or periodic maintenance works are carried out at the appropriate time. Indoor floor marking really is a business which needs to be done correctly the first time and every time. Renovate Contracts Ltd excels at line marking and as a result, we are used again and again by our clients who have come to count on our reliable, fast, friendly and competitively priced court marking service.