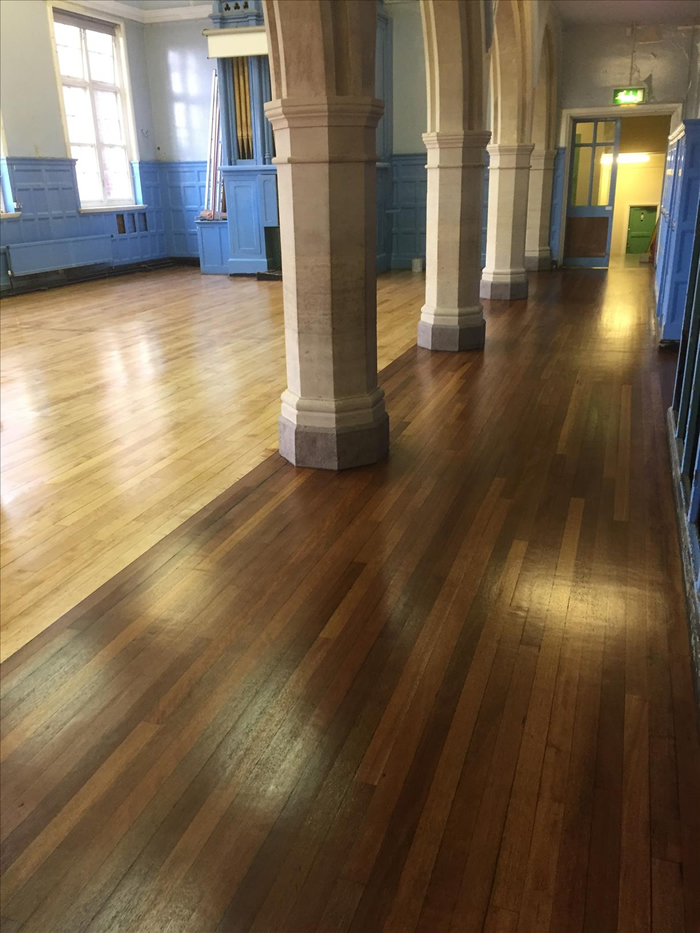 School Flooring
We have huge experience in the renovation of School Hall floors. We carry out the fitting of a new hall & gym floor. We also sand & recoat the existing flooring making it look brand new. Our hard wearing coating will keep your flooring looking fresh. A heavy traffic environment requires our hard-wearing coating for durability. We offer an overnight service or we can carry out work during the school holidays. This minimises disturbance to the pupils & staff.
We offer a dust-free sanding service for school floors. As a floor sanding company, we pride ourselves on the highest health & safety standards. The well-being of our customers & staff is of the highest priority. Keeping the dust controlled is necessary to keep the air quality to safe levels
School Floor Sanding
School hall flooring has the same build principles as sports halls and gymnasiums. Repairs of this type of floor should only be undertaken by a professional. There are many important factors to consider.
School & University halls are multi-purpose. Often used for sporting activities, dining, assemblies, performances and more. Every day a school or college hall will see hundreds of people using the floor. These wooden floors have very high traffic & need regular maintenance. The surface needs to be completely sealed. This is to stop moisture & liquids from penetrating the wood. The spilling of liquids is common with little ones in the dining room and happens at least once or twice per day. We use the World's leading coatings & lacquers to ensure you have a durable floor.
Your floor should have regular assessments by a commercial floor specialist. This is to check for any necessary repairs due to the heavy usage of school flooring. It will be cheaper to repair a smaller area. Untreated & damaged areas could become more significant and more expensive to repair. One of the most common damages to school halls is to the court / line marking. The school hall will host a range of sports such as basketball, football, Badminton and more. Please contact us now if you have any questions about your school flooring.