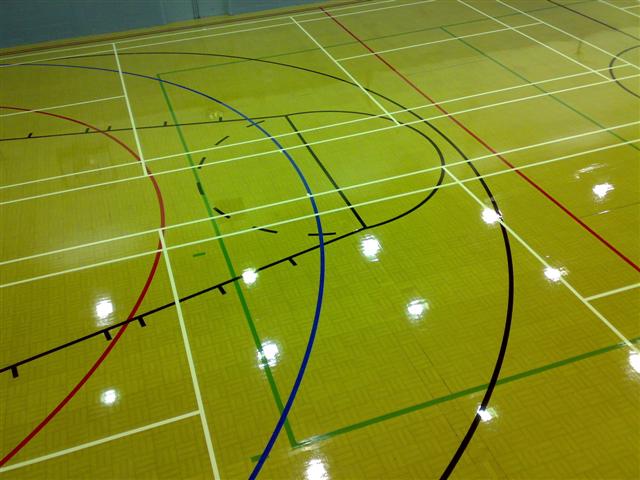 Sports Hall Floor Repairs & Refurbishment
Renovate Contracts Ltd installs new-sprung solid wood floors and vinyl floors in all sports areas. Sports floors and all types of leisure flooring are also refurbished by Renovate Contracts Ltd. Sportshall flooring is very often Granwood or Gransprung which can be repaired, maintained or fully refurbished by Renovate Contracts Ltd. We have machine sanded, line marking, repaired and refinished many sports hall floors, gymnasium floors or gymnasia floors throughout the UK.
Renovate Contracts Ltd is 'Constructionline' and 'CHAS' approved and indeed we are an approved Junckers maintenance contractor making Renovate Contracts Ltd the natural choice for either supply and installation of a new sports floor or repair, periodic maintenance or full refurbishment of all types of leisure and sports hall flooring. Renovate Contracts Ltd provides its leisure flooring services for many local authorities, M.O.D, Leisure Facilities Management, groups or companies, schools, universities, academies, community centres, churches and church halls, sports centres, leisure centres, police stations, fire stations and many other places where sports hall flooring is required.
Sports hall floors, gymnasium floors, dance floors, aerobic studios and indeed all types of sports flooring can be supplied and fitted including the court markings where required by Renovate Contracts Ltd. We are able to work from specifications laid down by the client, architects or main contractors. Our expertise in sports flooring also means that we can visit a site, listen to our client's requirements and budget levels and from that point do a full survey and provide quotations for several different options. This flexibility means that our clients get the correct solution in terms of sports flooring that they need. Multi-purpose sports flooring needs to be extremely durable and Renovate Contracts Ltd can provide solutions for sports hall floors to suit all budgets and requirements. Our leisure flooring ranges from vinyl sports floors, sprung, solid wood sports flooring to prefinished and engineered wood floors. We are able to buy from Junckers, Polyflor, Gerflor, Haro, Tarkett, Kahrs, Boen and many others to ensure our client's wishes are met in terms of their new sports floors.
Renovate Contracts Ltd has repaired, relined and fully machine sanded and re-sealed many wooden sports hall floors of all types including Junckers, Boen, Haro and Kahrs, If your sports flooring has seen better days and your budget allows it we can fully restore your floor to a virtually new condition. Through our dedication to our work, we have achieved the status of 'Junckers approved maintenance contractors we are recommended by Granwax Products Ltd and approved by Bona.
If you choose to choose Renovate Contracts to renovate your sports floors you'll be getting value for money through quality products used and exceptional standards of professional workmanship.
Comments from University of South Wales
The Sports Hall and gymnasium are looking really good. We are all really happy with the finished work. Olly and the boys did a fantastic job - could not fault them for anything. They didn't stop from the time they arrived until the time they left, all were very approachable and answered all our queries regarding the work being carried out. Both floors have been finished to a really high standard which is a credit to the boys' work.
Adam Swithenbank - Sports Duty Supervisor